[ENGLISH]
Vexanium August 2020 Highlight is here Vex Partners! There are so many activities and achievements for Vexanium. So, buckle up because we got a lot to cover in this month full of events.
RAM Trading Contest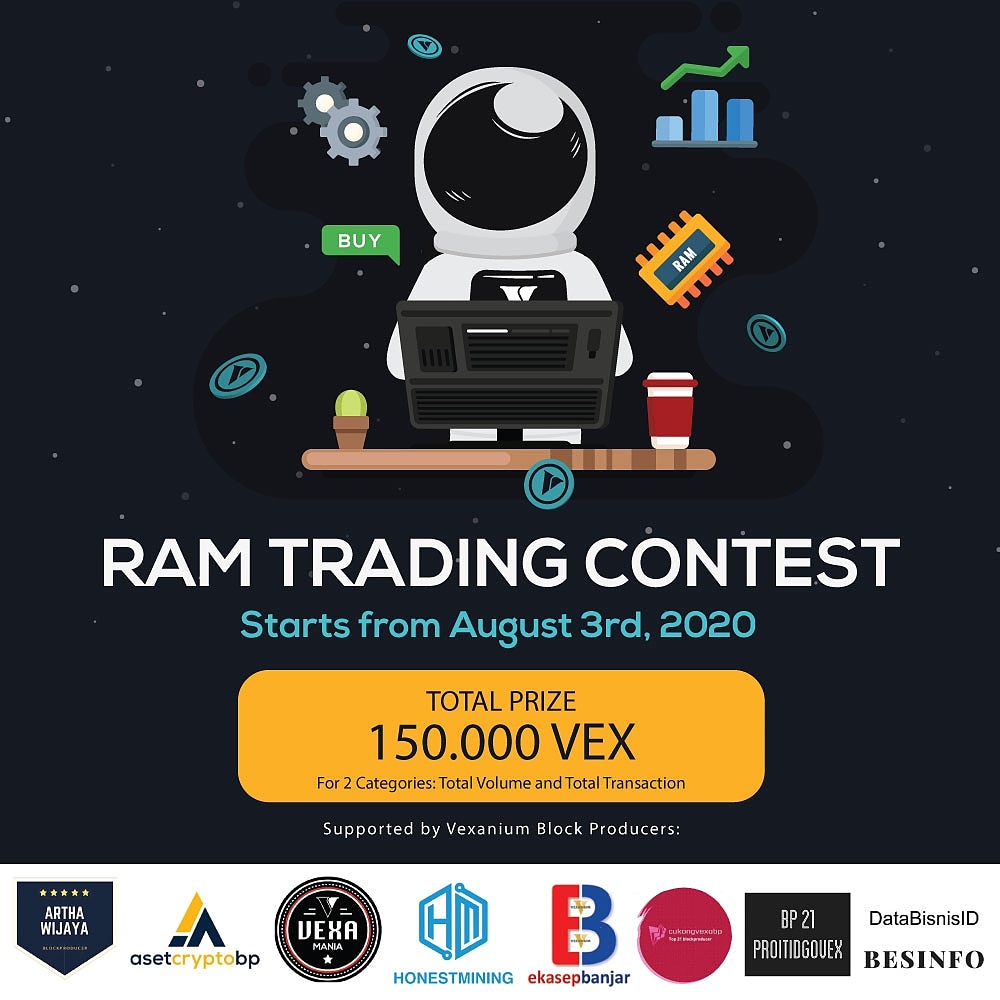 From August 3rd to August 24th, 2020 Vexanium holds a RAM Trading Contest, supported by Vexanium Block Producers. The total prize of this contest is 150,000 VEX for two assessment categories: total volume and total transactions.
As the name suggests, the RAM Trading Contest is an event for users to compete with each other in exchanging RAM (RAM Trading). So during this period, any RAM exchanges made by users on the Vexanium blockchain will be accumulated and counted as part of the RAM Trading Contest.
Instant Swap VEX Features and Swapetition on AToken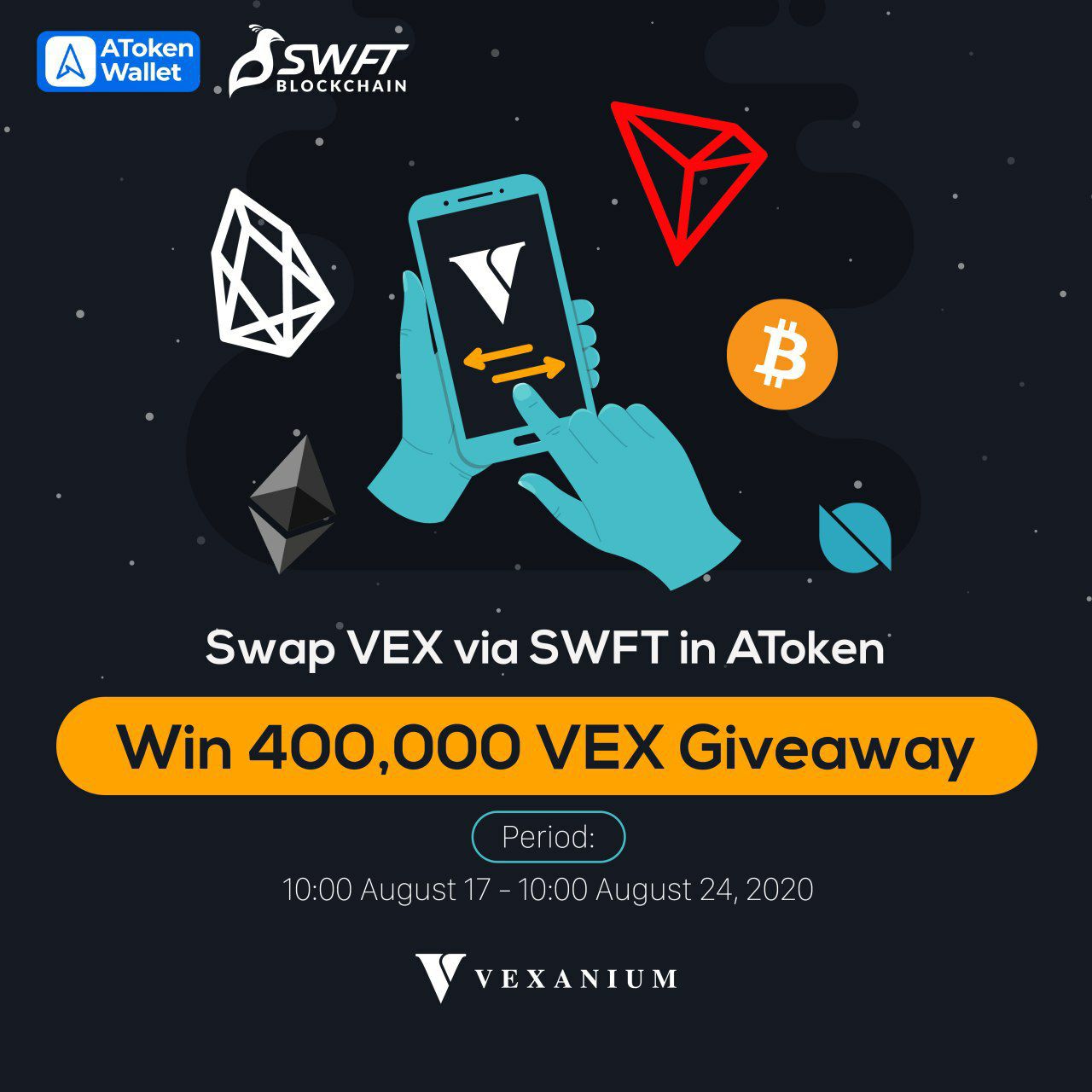 Starting on August 17th, 2020, users are able to do instant swap VEX with 60+ tokens and coins available in AToken! This feature, which powered by SWFT. Along with this event, users can also participate in Swapetition to win 400,000 VEX Giveaway by Vexanium and AToken. With this thing then users can experience the fast swap on AToken and win the big prize!
VEX Coin Burn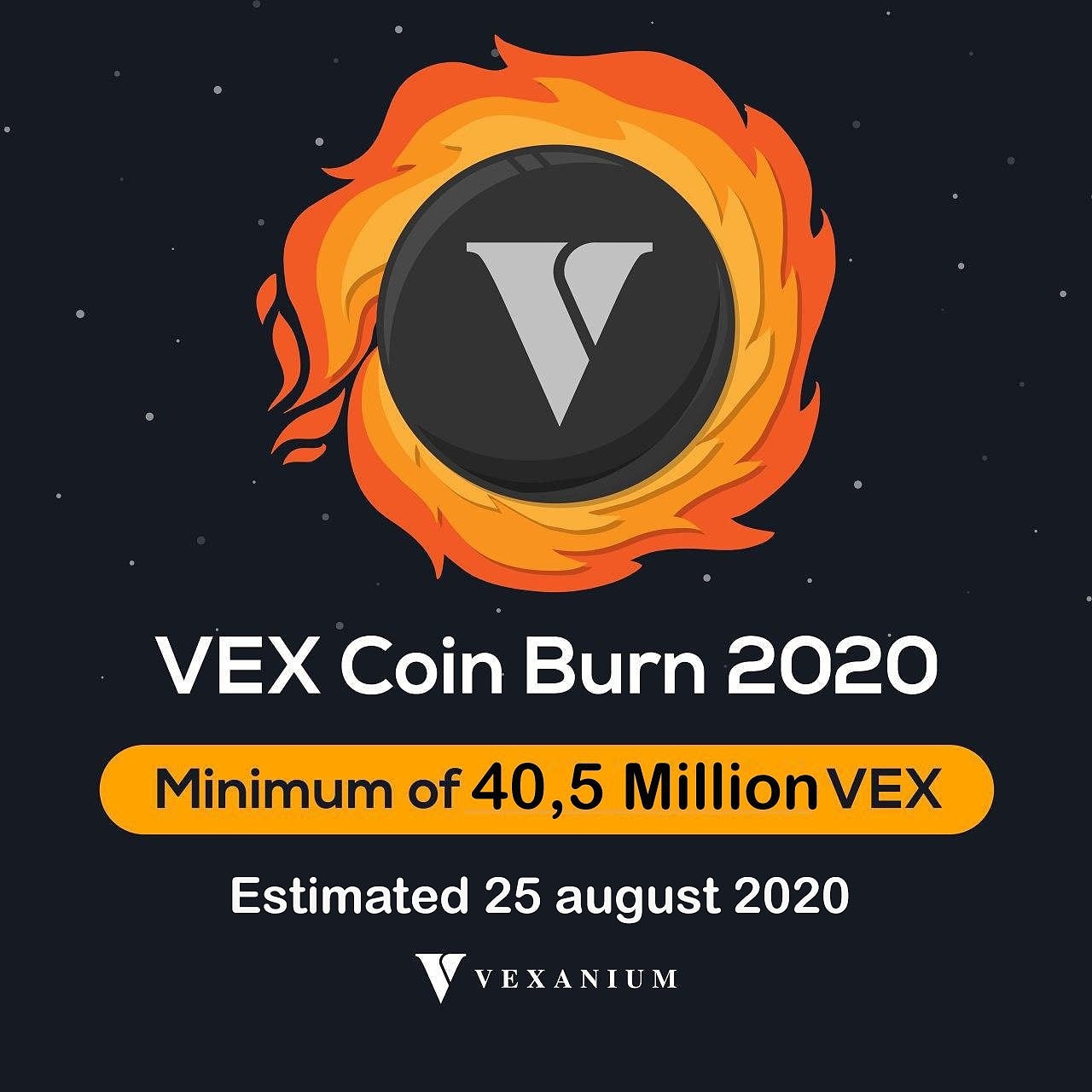 On August 25th, 2020, the Vexanium protocol, through Block Producers / Validators, had burned the worker proposal (vex.saving). The amount of VEX that is burned is around 40,500,000 VEX of the amount of vex.saving (worker proposal) + covid.donasi (covid19 donation) + part of the market.
This Burning process occurs with the voting process of Block Producers through Voting Proposals, which will be carried out 1-2 days before burning. 2/3 active BP voted and once executed, VEX will be in Retired (burned) condition.
Vexanium DeFi Day Webinar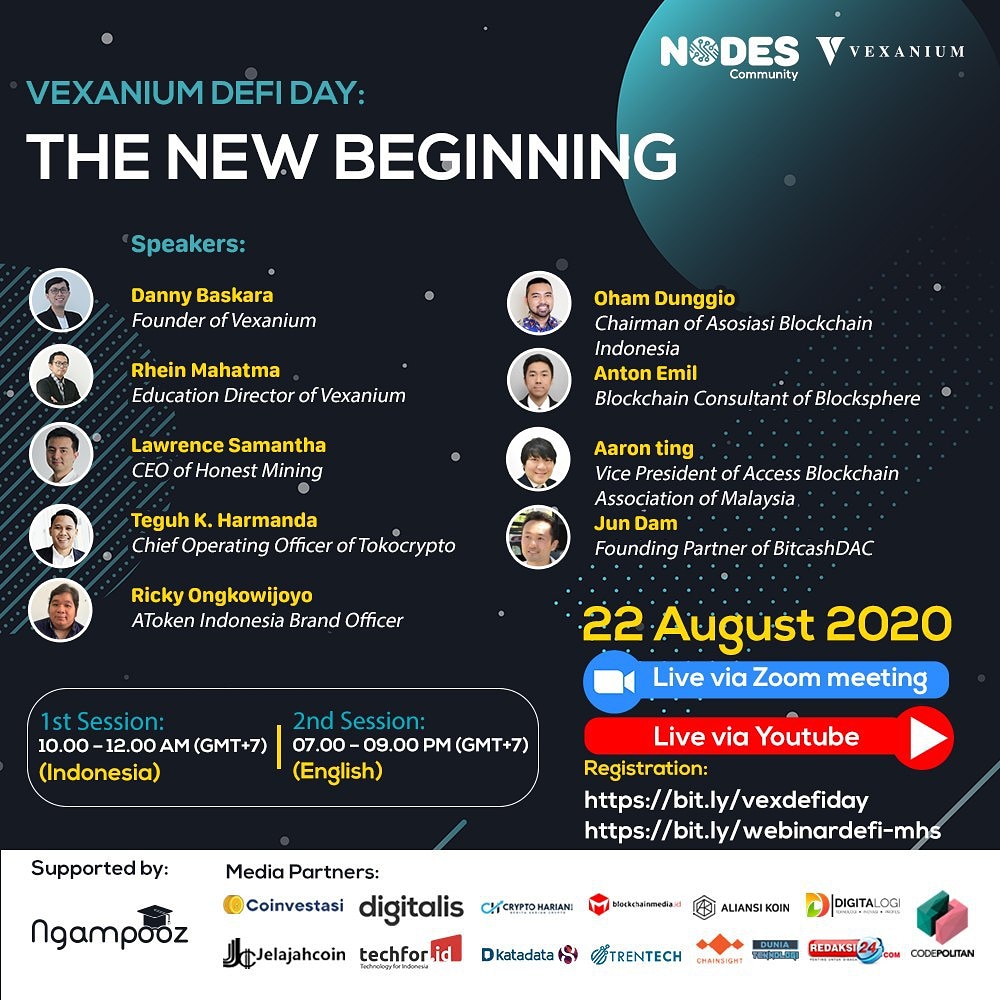 On August 22th 2020, Vexanium holds a webinar titled, Vexanium DeFi Day: A Beginning. It features 9 speakers and there are 2 sessions for Indonesian and global. This webinar is live via Zoom Meeting and Youtube.
Indonesia Blockchain Week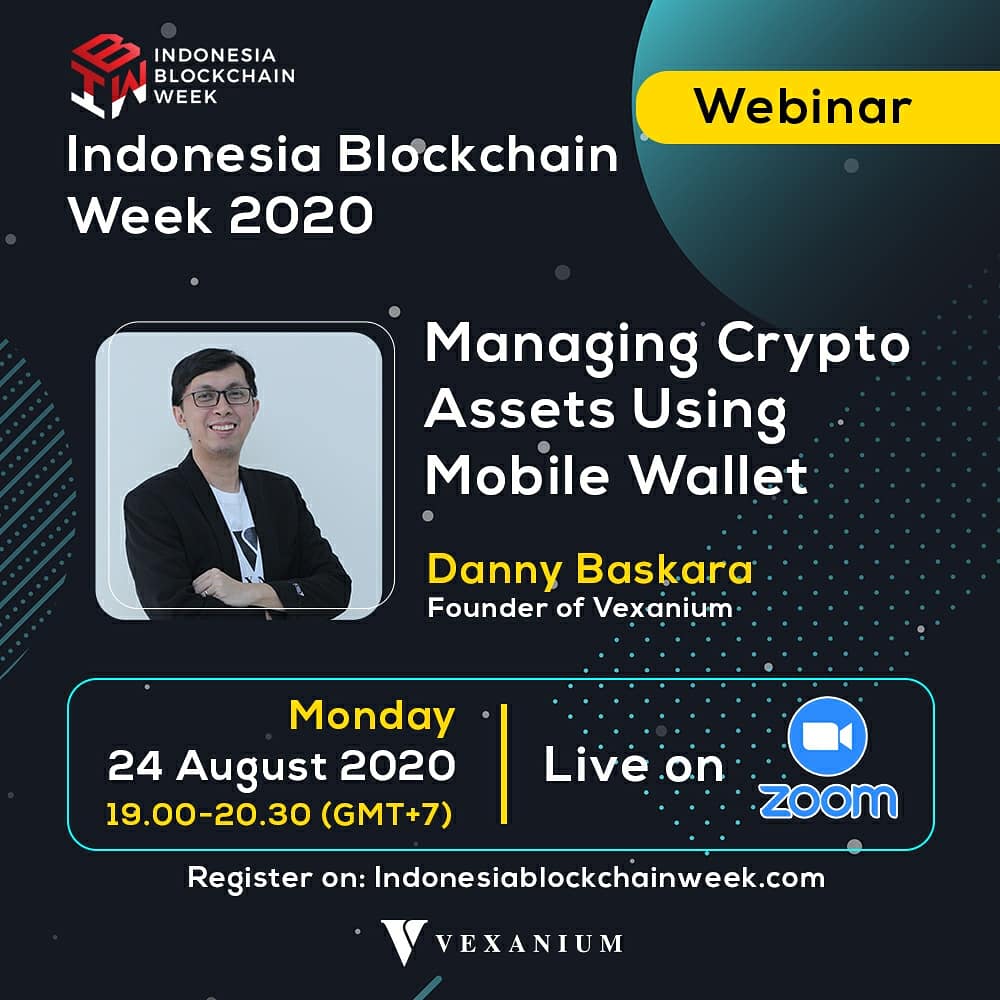 One of the Vexanium teams participated to be a speaker at Indonesia Blockchain Week 2020. This year round of Indonesia Blockchain Week consist of a series of online Webinars focusing on the various applications of DeFi in Indonesia. Several high profile global and Indonesia DeFi experts will be speaking in these webinars to share their insights on how Indonesians can benefit for DeFi.
AMA Sessions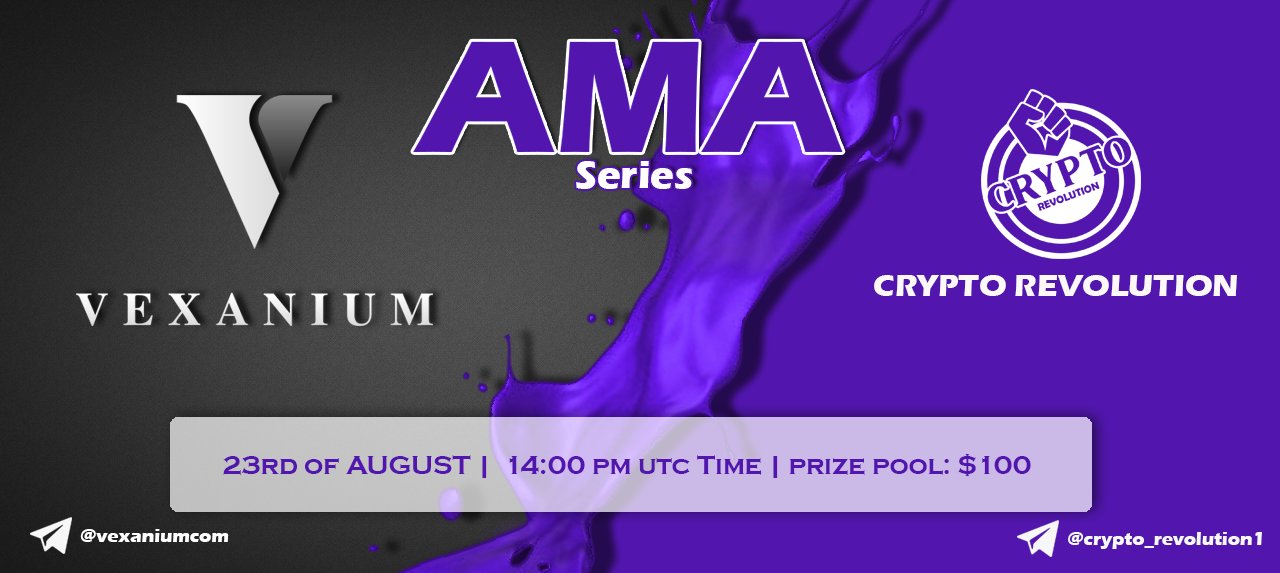 In August, representatives from the Vexanium team attended several AMA (Ask Me Anything) sessions in various crypto and blockchain Telegram groups. These groups contain a variety of users with very diverse backgrounds and domiciles. This AMA event succeeded in attracting user enthusiasm and adding many new users to join the Vexanium ecosystem.
Vexanium hopes that you are always healthy and happy, we certainly hope that things will get better, especially in the areas of blockchain and cryptocurrency. See you at the next Highlights!
[BAHASA INDONESIA]
Vexanium Highlight Agustus 2020 ada di sini Vex Partners! Banyak sekali aktivitas dan prestasi yang berhasil diraih Vexanium. Jadi, kencangkan sabuk pengaman Anda karena kita punya banyak hal untuk dibahas di bulan yang penuh dengan acara ini.
Kontes Trading RAM
Dari 3 Agustus hingga 24 Agustus 2020, Vexanium mengadakan Kontes Trading RAM, didukung oleh Vexanium Block Producers. Hadiah total dari kontes ini adalah 150.000 VEX untuk dua kategori penilaian: total volume dan total transaksi.
Seperti namanya, RAM Trading Contest merupakan ajang agar para pengguna saling bersaing dalam bertukar RAM (RAM Trading). Jadi selama periode ini, setiap pertukaran RAM yang dilakukan oleh pengguna di blockchain Vexanium akan diakumulasikan dan dihitung sebagai bagian dari Kontes Perdagangan RAM.
Fitur Swap Instan VEX dan Swapetition di AToken
Pada 17 Agustus 2020, pengguna dapat melakukan pertukaran instan VEX dengan 60+ token dan koin tersedia di AToken ! Fitur ini, yang didukung oleh teknologi SWFT. Bersamaan dengan acara ini, pengguna juga dapat berpartisipasi dalam Swapetition untuk memenangkan 400.000 VEX Giveaway melalui Vexanium dan AToken. Dengan hal ini maka pengguna bisa merasakan fast swap di AToken dan memenangkan hadiah besar!
VEX Coin Burn
Pada 25 Agustus 2020, protokol Vexanium, melalui Block Producers / Validators, telah melakukan burn terhadap proposal pekerja (vex.saving). Jumlah VEX yang dibakar adalah sekitar 40.500.000 VEX dari jumlah vex.saving (proposal pekerja) + covid. Donasi (covid19 donasi) + bagian dari pasar (market).
Proses Pembakaran ini terjadi dengan proses pemungutan suara Produsen Blok (Block Producers / BP) melalui Proposal Voting yang akan dilakukan 1-2 hari sebelum pembakaran. 2/3 BP aktif telah memilih dan setelah dieksekusi, VEX akan dalam kondisi Retired (dibakar).
Webinar Vexanium DeFi Day
Pada 22 Agustus 2020, Vexanium mengadakan webinar bertajuk Vexanium DeFi Day: A Beginning. Menampilkan 9 pembicara dan ada 2 sesi untuk bahasa Indonesia dan global. Webinar ini disiarkan langsung melalui Zoom Meeting dan Youtube.
Indonesia Blockchain Week 2020
Salah satu tim Vexanium berpartisipasi menjadi pembicara di Indonesia Blockchain Week 2020. Indonesia Blockchain Week tahun ini terdiri dari serangkaian Webinar online yang berfokus pada berbagai aplikasi DeFi di Indonesia. Beberapa pakar DeFi global dan Indonesia ternama akan berbicara dalam webinar ini untuk berbagi wawasan mereka tentang bagaimana orang Indonesia dapat memperoleh manfaat untuk DeFi.
Sesi AMA
Pada bulan Agustus, perwakilan dari tim Vexanium menghadiri beberapa sesi AMA (Ask Me Anything) di berbagai grup Telegram crypto dan blockchain. Grup ini berisi berbagai pengguna dengan latar belakang dan domisili yang sangat beragam. Acara AMA ini berhasil menarik antusias para pengguna dan menambah banyak pengguna baru untuk bergabung dengan ekosistem Vexanium.
Vexanium berharap Anda selalu sehat dan bahagia, kami tentu berharap semuanya akan lebih baik, terutama di bidang blockchain dan cryptocurrency. Sampai jumpa di Sorotan selanjutnya!