Hi Vex Buddies! June is over, which means we are already halfway through 2021. In the midst of this uncertain situation, the Vexanium blockchain continues to grow with the strength and support of the entire Vexanium community. Lots of things have happened in the Vexanium ecosystem this month, starting from the launch of one of the most requested app by the community, which is the iOS version of Vex Wallet, a smart contract workshop to the launch of a new AMM DEX made by developers from the community. Let's take a look at the summary on this June 2021 Highlight.
Smart Contract Training
From June 8th to June 10th, 2021, Vexanium Foundation provides a Smart Contract workshop for universities students. This workshop is the Compclub Workshop 2.0 held by President University Computing to discuss how to create smart contracts (starting from basic) using the Vexanium blockchain. This workshop not only teaches the theory of smart contract but also the demonstration of making smart contracts from start to finish
Vex Wallet iOS Beta Version
On June 3rd, 2021, Vexanium Foundation core developers successfully make an iOS Version of Vex Wallet. This Vexanium's highest-demand app is still a work in progress because users can try this beta version app with Testflight. To ensure that our developer team can get closer to perfecting this Vex Wallet iOS version, users can report/submit any bugs they can find within the app. This beta application has provided a big picture of what the iOS version of Vex Wallet will look like when it is fully launched.
Vexanium Basic Training Vol.4 (Indonesian)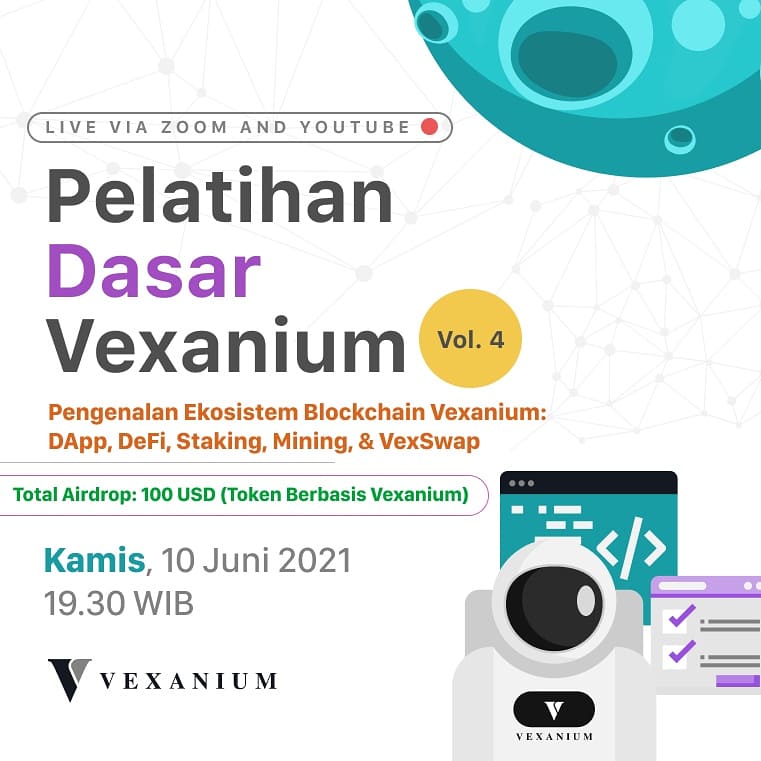 On Thursday, June 10, 2021 Vexanium.Foundation held the Vexanium Basic Training Volume 4 via Zoom and YouTube. In this training, Vexanium Foundation representatives talks about "Introduction to the Vexanium Blockchain Ecosystem: DApp, DeFi, Staking, Mining, & VexSwap". With a total airdrop of 100 USD in the form of Vexanium-based tokens (BASO, BATIK, Trafi, VYN, USDV, BNKRI, DJV) for 300 lucky participants!
VexLink Launch
This month the core developers from the Vexanium Foundation have not only developed the iOS version of Vex Wallet, but also a lighter version of Vex Wallet. It's called VexLink which has most of the features and functions of Vex Wallet but one of the differences lies only in the way you use DApps on Vexanium. If usually users can immediately see a list of DApps on the DApps page of Vex Wallet, this time to ease the burden on user data, VexLink uses the DApp Browser feature to search for and use DApps on the Vexanium blockchain. It is hoped that this lighter version can ease the storage load for some users who want to use the Vexanium ecosystem.
SaladSwap Launch and Farm
On June 29 2021 a new AMM DEX to accompany Vex Swap has emerged to be a new alternative for users. Make way for SaladSwap, an AMM DEX made by the developer from the community! SaladSwap is built on an automated market maker (AMM) system, which relies on user-fueled liquidity pools to enable crypto trades. On June 30, SaladSwap immediately started a LP farm of SALAD tokens, with a total of 100,000 SALAD for the first phase (out of total supply of 1,000,000 SALAD).